Home <Services < Cardiology < Ectopic Heart Beats
Ectopic Heart Beats & How to Get Rid of Them
Heart Guides – Are Ectopics Worrying You?
If you're experiencing ectopic heart beats, it can be an unsettling experience, especially if they're occurring on a frequent basis. One of the reasons they can be so frightening is that they're noticeable, when usually your heart beats at its normal rate without you being able to feel it. While palpitations can feel like a fluttering or irregular heartbeat, ectopics refer to the sensation of a missed or extra beat (which can feel like a thud). While these are often nothing to be concerned about, it's important to seek medical advice if you're worried for any reason, have a heart condition, if they're happening regularly or lasting for a long time.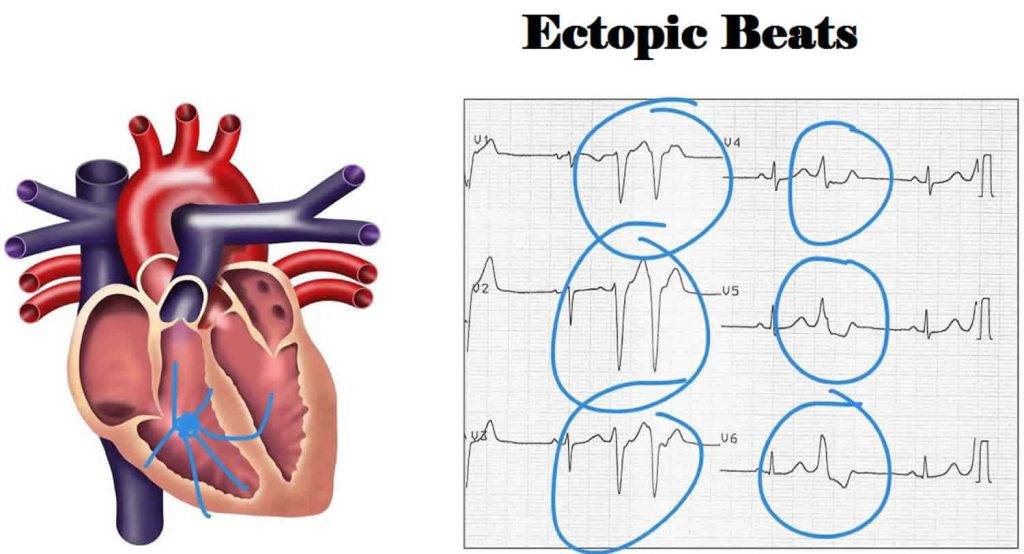 Even if your ectopics turn out to be nothing to worry about, putting up with the symptoms on a long-term basis can have a huge effect on your life. That's why it's vital to understand your own triggers and ways to reduce palpitations naturally. These tips shouldn't be used in place of any medical advice given by your doctor, but they serve as lifestyle changes you can make to improve your heart's health and normal function.
Ectopic Heart Beats & How to Get Rid of Them
While it's sometimes scary to feel palpitations or ectopic heart beats, triggers can often be related to lifestyle, diet or even emotions.
One of the recurring themes seen by heart doctors is that those experiencing ectopic heart beats have a lot of health-related anxiety. The fear that something bad is going to happen to you can actually make symptoms worse. If able to tackle this fear, many will find their ectopic heart beats will disappear or at least improve.
Techniques you can use include breathing exercises, lowering your breaths from about 12 to 15 breaths per minute to about 6 breaths per minute. Slowly breathe in through the nose and out through the mouth, for about 10 seconds in a calm flow (not holding your breath). Try this for at least 5 minutes to see if it helps.
Another trigger that's important to consider is the effect of disturbed sleep on ectopic heart beats. If your sleep is disrupted, it can alter the autonomic systems of the body, increases cortisol and stress hormones, and even have an inflammatory effect. Ectopics can become more magnified, so it's important to find ways to manage your sleep better.
One thing you may like to try is taking magnesium supplements, in case your levels are low. This could be caused by factors such as eating a lot of processed food which can decrease your intake.
Drinks to avoid consuming a lot of include heavily caffeinated drinks such as coffee and energy drinks, as well as alcohol and carbonated drinks. This may help reduce your ectopic heart beats.
If your doctor has confirmed your ectopic heart beats are nothing serious, exercise can help. While this may seem unnatural in the middle of the night, even some gentle activity to raise your heart rate can help.
High levels of preservatives in your diet can worsen ectopic heart beats, so it's a good idea to take note of what you're consuming. These include e-numbers E621, E627, E631, E220 to 228 and E280 to 283.
Rich or spicy meals may also cause issues with ectopic heart beats, as well as bread and dairy. Try reducing some of these to see which ones could be triggers.
If you're experiencing ectopic heart beats, your doctor should also check what medication you're on (if any) as some palpitations can be triggered by certain drugs.
Finding out the Cause
When you first speak to a doctor about palpitations you're experiencing, they'll usually recommend you undergo an ECG (electrocardiogram). This painless test will monitor your heart rhythm over a period of time, recording all electrical activity. Doctors understand how to interpret the findings, identifying where each beat of your heart is occurring. Therefore, the best way to find out the cause or source of your ectopics is by pressing a button connected to the monitor, recording when your palpitations are happening. This can help diagnose premature ventricular complexes (PVCs), for example. PVCs occur when the heart's ventricles start a new heart beat before the normal ones from the atria have finished, giving the sensation of an extra beat.
Your doctor will then make a plan of action, but if there are no concerns about your health, they may reassure you that there's nothing wrong. While this is good news overall, living with the symptoms isn't pleasant and can be incredibly frustrating. If you need to speak to a doctor who specialises in ectopics and palpitations, as well as other heart conditions, Dr Vaibhav Patil can help.